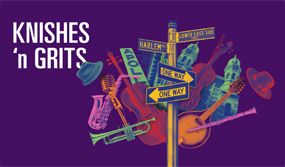 Of course its all about the food! 
We were looking for a title for the new show that Thom Allison and I are writing and performing that celebrates  the coming together of Black and Jewish cultures musically -and when Thom hit on that title we knew we had our show! 
Two cultures familiar with the pain of discrimination & displacement. Yes. Two cultures whose coming together created Jazz, Musical Theatre and most of the Hit Parade. Yes.
But also two cultures that love to celebrate the good things in life-Family, Laughter, Love, Music ………and Great Food! 
I'm sitting here buried under a pile of historical reference books, with songs from every imaginable place and time- digging in to collaborate with a GREAT team- hoping to take the audience on a ride that is as informative, surprising and entertaining as this music can be! 
Of course now we spend a lot of time answering the culinary question of how to describe what both dishes actually are made of! :) 
May 21st to June 2nd @ Toronto Centre For The Arts!  Direction by Avery Saltzman, Musical Direction Mark Camilleri, produced by Toronto Jewish Theatre  starring Jackie Richardson, Kelly Hollif,  Micah Barnes and Thom Allison. 
Book your tickets early folks!  https://www.secureboxoffice.com/Search?query=knishes+and+grits