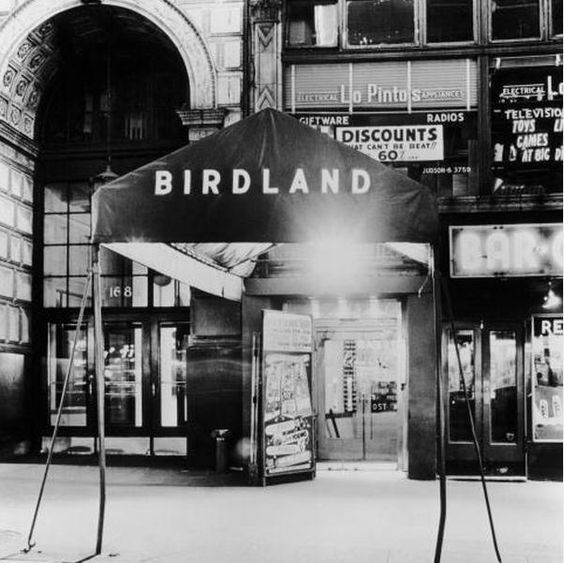 Birdland is a famous jazz club in New York City located at 1678 Broadway at 44th Street. Owner Morris Levy rnamed the club Birdland in honor of Charlie "Bird" Parker and it is that club after which this classic Jazz standard of the Bebop era was named.  The legendary venue continues to book the top Jazz acts today, and with it's lushly appointed booths and classic look serves as throw back to a time when nightclubs were  where you found the sophisticated elite of society.
 Jazz Pianist George Shearing, composer of "Lullaby of Birdland," first played the venue in 1949 the year that it opened.  In 1952 Levy decided to have station WJZ in New York broadcast a disc jockey program from there, and he asked Shearing to record a theme song for the show.  For weeks Shearing tried to come up with something but to no avail. Suddenly one night in the middle of dinner he jumped up, went to the piano and wrote the whole thing in about ten minutes. The pianist explains, "Actually quite a lot of my compositions have come this way--very slow going for a week or so, and the finished piece comes together very rapidly, but as I say to those who criticize this method of working, it's not that I dash something off in ten minutes, it's ten minutes plus umpteen years in the business."
Somewhat later George David Weiss added lyrics to the tune, and Sarah Vaughan recorded it in December, 1954, for Mercury with trumpeter Clifford Brown. It was one of her biggest hits and became a standard in her repertoire. Being one of the first Jazz standards I attempted to learn as a young teenager, Ive always appreciated both the songs Bebop style melody which manages to nicely pay tribute to Charlie Parkers inventive playing style and to the simple poetry of the lyric, which is both imminently singable and emotionally engaging.
 I'm including Sarah Vaughan and Clifford Brown's classic version of "Lullaby Of Birdland" here for those who haven't heard it!